Welcome to New Body Diesel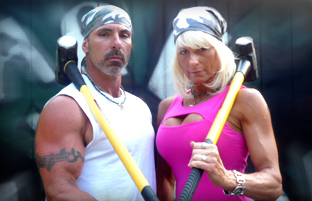 Greetings from New Body Diesel! Dawn a retired New York Police Officer and Carmine an ex Special Forces soldier have been building mind, body and spirit for 17 years. Dawn and Carmine both have aquired thier Bachelor of Arts in Physical Education. Are you up for the challenge? Go hard or go home!
Personal Training Sessions and Packages are Available! Contact Us for More Information!
We specialize in training for any civil service test!!
Are you looking for a college sports scholarship? Making a comeback from an illness?
Just want to take charge of your life?! No matter what age, it's possible!!!
---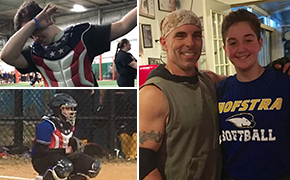 Dawn and Carmine have inspired me and trained me to become the best athlete I can be. Over the past year I have trained with New Body Diesel I have gained more confidence, determination, and friendships. There is no other place I'd rather be every morning, walking into smiling faces, and the atmosphere of working inside and outside is what makes it unique. With their training I have become much stronger, which led me to brake multiple school records this past spring at Centereach High School, and will be more than prepared for the fall where I will be playing Division 1 Softball for Hofstra University. I would not be where I am today without Dawn and Carmine, and I am forever thankful for all that they do for me. Lindsay
---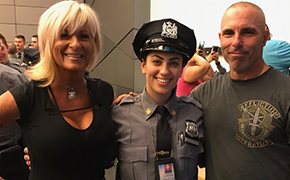 New Body Diesel is truly the most amazing place to work out. I never hesitate to tell anyone about where I train and how great it is. Not only have I gained the confidence and strength within myself, I've been motivated by Dawn and Carmine every step of the way. I've been going to NBD for the past 4 years and I always find myself back in the gym ready to train because you really can't find another gym that can do crossfit, boxing, cardio and swimming all in one session. Anyone who asks why I don't "just go to a regular gym" always gets the same response from me; until you go to one class you will never understand what we do and how hard we train. Thanks to Dawn and Carmine I've gained every bit of confidence I needed to enter the police academy without fear! Lauren Luciano
---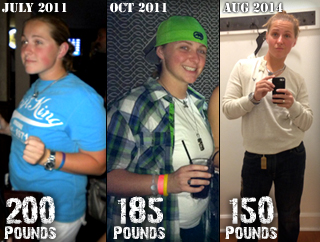 What has New Body Diesel done for me? That's a tough question to answer, because it has helped me with so much. Overall I would say the most important thing is the confidence this gym has helped me build. I walked into New Body Diesel knowing I can work hard and put in the effort, but this place brought out a Beast in me I never knew existed. I no longer know the word "quit" or "can't." I find myself pushing through every difficult situation no matter my fatigue. I injured my back pretty severely in 2014 but I knew I wouldn't let that stop me. I had to "start over" in a sense, with how much weight I could lift, but I never stopped. New Body Diesel helped me find a love for and a desire to be healthy. I've heard "nothing tastes as good as skinny feels." Forget skinny, healthy is the best feeling I've ever felt. I can run without stopping, I can workout for hours and feel no need to stop, and I can participate in all sports without pain or feeling tired. When it comes to work, New Body Diesel has helped me to know I can walk out on the street and handle my own. I don't need to rely on another person to be there to protect me. I've learned how to box...and throw a mean left hook. I know I have the stamina to chase someone down and I have the strength to hold them there. I've never had a partner feel like they needed to "man-up" because they were with a female while working with me. Most of them said they knew I didn't need them so they felt more relaxed. My bosses took notice and I began receiving all these additional trainings and going out in plain clothes. It's an amazing feeling to know all of these people trust in me to get the job done. So what has New Body Diesel done for me? Everything. PO Samantha Kirrane, Medical Division
---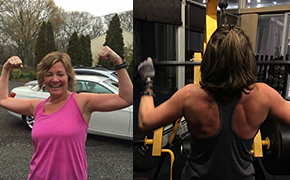 My name is Debbie over the past ten years I've had some serious health issues. To name a few Cervical Cancer, repair of a hole in my heart that caused multiple mini strokes with left sided weakness and the discovery of an autoimmune disease that effects my joints. After all of this I was stuck, I needed a push. That's when I called "New body Deisel". From that call until today, over a year later, I'm in the best shape of my life. Dawn and Carmine are the most dedicated, genuine trainers you could ask for. They offer support in all areas, always making sure you are in correct form and even offering diet advice. They have fostered a love of training in my soul that has empowered me in all aspects of my life. I don't know where I'd be if not for that call. I'm back stronger then ever. Debbie
---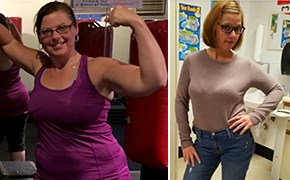 Hi, my name is Lisa, I started going to New Body Diesel two years ago. When I started I was at 37 percent body fat and 160 pounds! Now I'm down 30 pounds and 8 points in body fat! I have been overweight my whole life and very low self-esteem. That all changed when I joined New Body Diesel! Now I'm healthy, strong and more confident! I'm forever grateful to Dawn and Carmine they go above and beyond. Lisa Esposito
---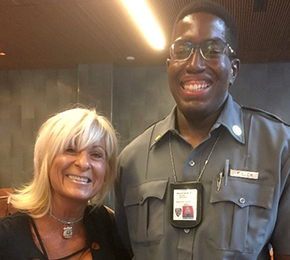 First and foremost thank you Dawn and Carmine for allowing me to train with you, I am eternally grateful. Coming to New Body Diesel was hands down one of the best experiences I've ever had. My class became my extended family and I always felt supported. There were days when I could barely move from the previous training session, as Dawn would say ...."Pain is a sign of weakness leaving the body". Each class was fun, structured, and fast paced. As weeks progressed I started to feel stronger and more knowledgable about working out, which I could never achieve training at LA Fitness -- or LA Shitness as Dawn would say. Thanks to New Body Diesel I feel confident embarking on my career path now that I have the strength and conditioning to persevere through the grueling 6 month NYPD Police Academy. Raymond K. Fuller
---